The Frying Scotsman, Beaverton OR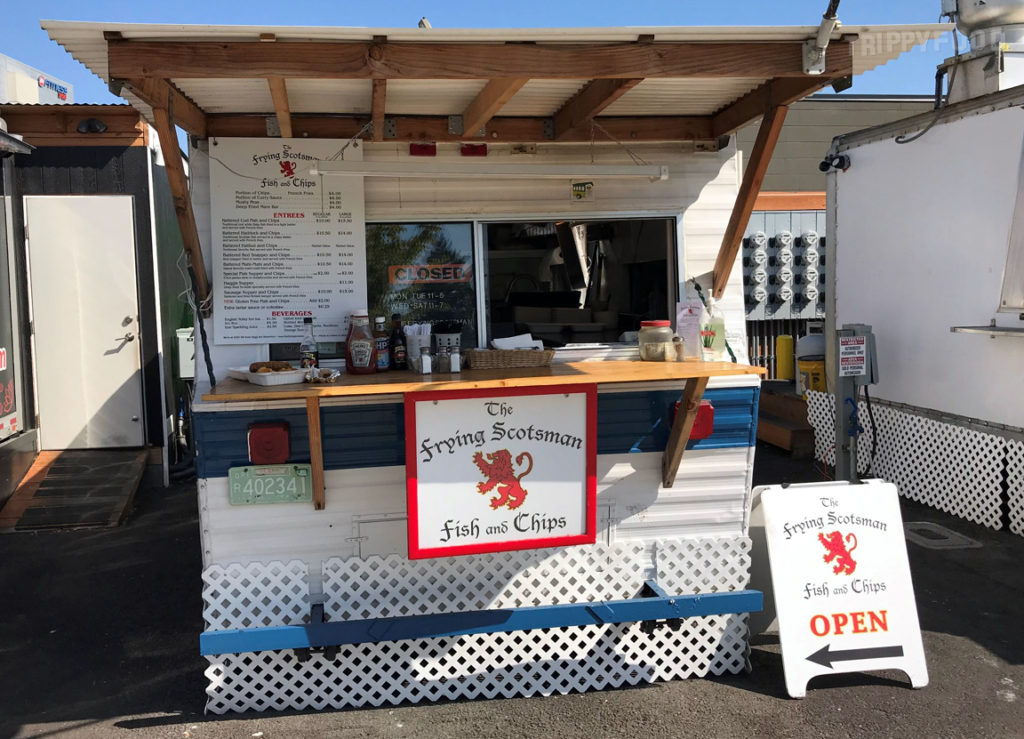 If you were to try to hunt down a Scottish chip van serving traditional chippy fare, Beaverton, Oregon would probably be one of the last places you'd look, but that's exactly where you'd find chef James King's Frying Scotsman food cart. The Pacific Northwest seems an unlikely place to put down stakes, an ocean away from where the haddock roam, but King has carved out a niche in a place that's saturated with food carts with his unique chip shop on blocks.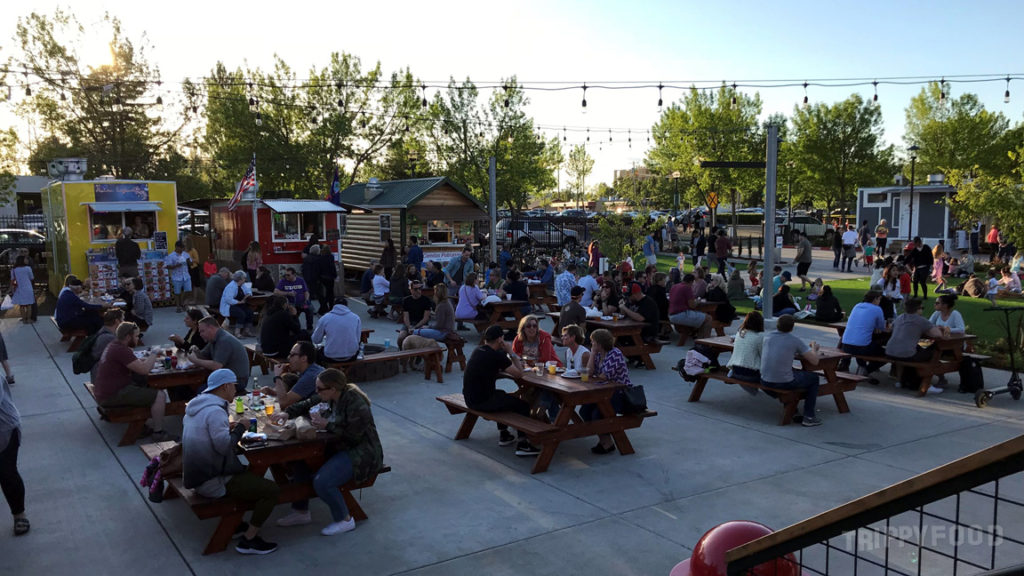 Prior to manning a food cart, King worked in the oil industry for nearly 15 years, but being away from his family around the world for months at a time prompted him to find something he loved that he could go home from at night. He's been in the Portland area for around 12 years, but for the last ten, The Frying Scotsman has been his labor of love. King purchased a tiny cart and set up shop in Northwest Portland at a time when the now saturated food cart scene was burgeoning; eight months later, he moved to the Alder Street pod, which until its recent demise was the largest food cart pod in Portland (and probably the United States). Word had spread among the cart owners that the pod was to be evacuated to make way for a 35-story Ritz-Carlton hotel and office tower. To speak with the Alder Street cart owners, they were told 90 days, then a year, then six months; King saw the writing on the plywood wall and decided to relocate before he had no choice. The pod closed permanently to commence construction of the tower this summer; many of the carts in the Alder Street have scattered to the wind, although some will eventually re-open in a proposed food hall and cart row. For now, the city is hosting a handful of the displaced carts on one of the North Park Blocks (between NW Davis and Burnside Street) a short distance away.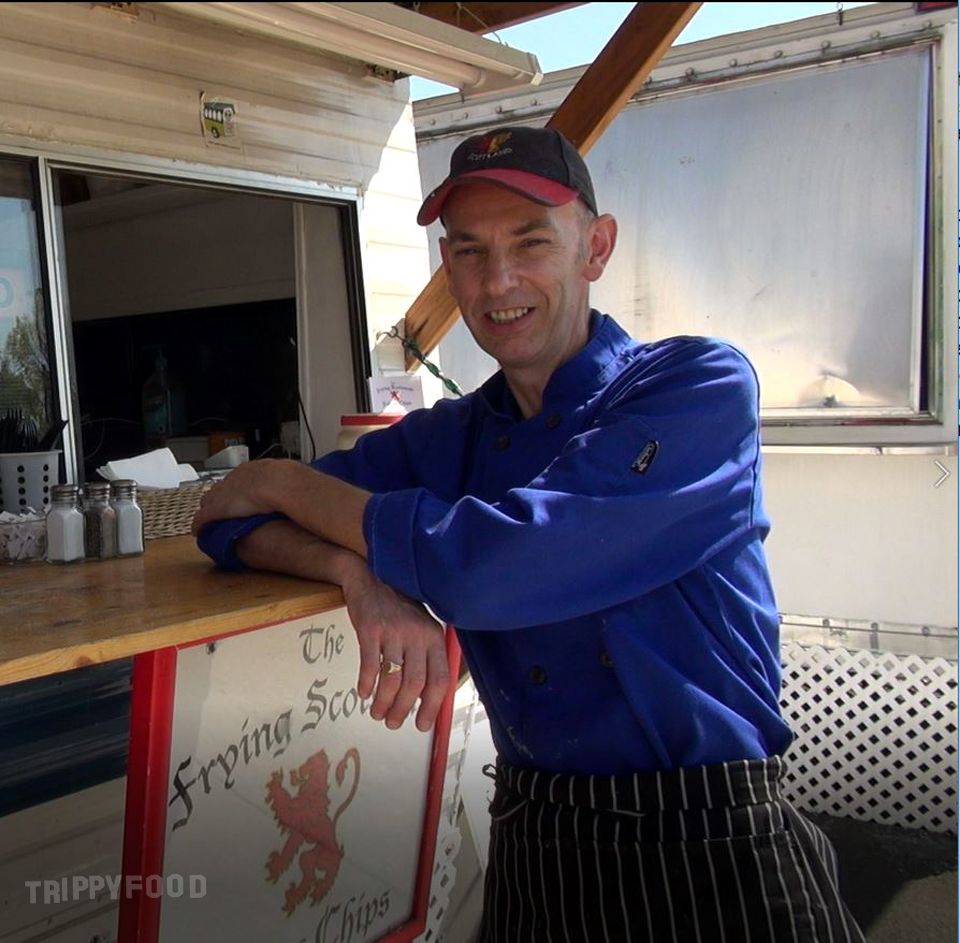 In October of 2018, King put down proverbial stakes at BG's Food Cartel pod in Beaverton, Oregon, which has become the largest in the Portland area by default. Some of the other Alder Street carts had relocated there with mixed success, but King has a loyal clientele that has followed him across town and has been able to maintain familiarity with those who had seen the cart featured in season one of The Cooking Channel's Eat Street on the "Classics With A Twist" episode in 2011. While Alder Street was designed with all the carts facing the sidewalk and vendor parking on the inside of the block with nowhere to eat, BG's is more conducive to consumers ordering off the carts and eating at umbrella-covered picnic tables or in the indoor bar area. The Frying Scotsman is neatly situated directly across from the front entrance, with the raised Saltire waving hungry diners to the cart.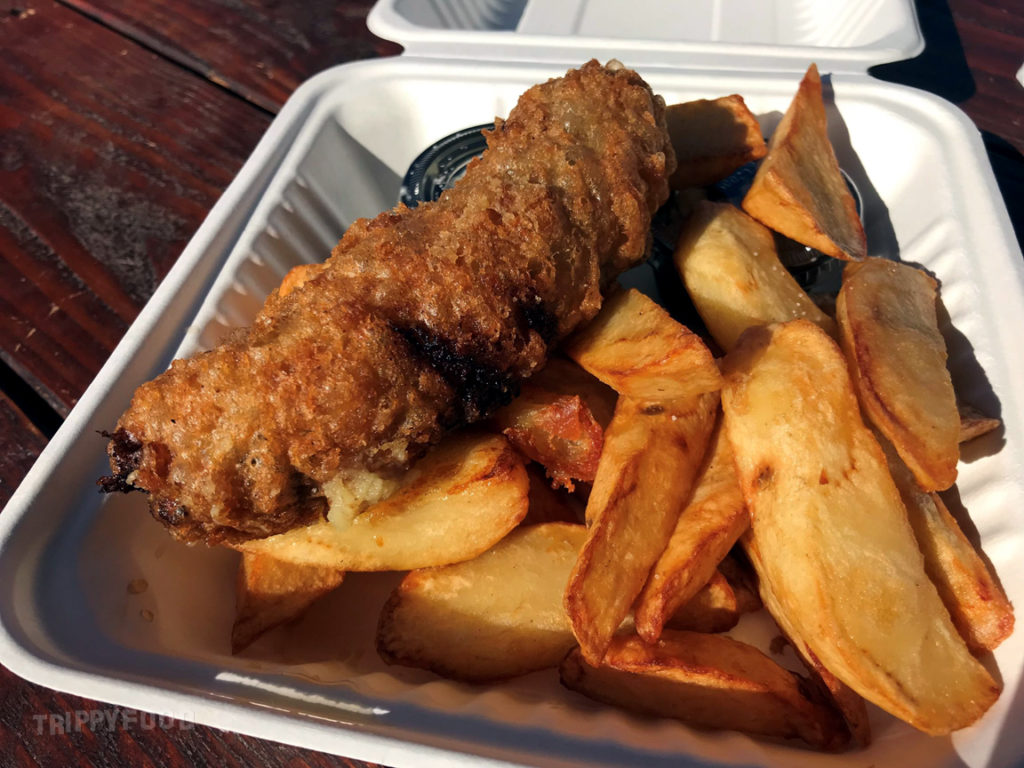 King offers everything you'd expect to find at a traditional Scottish chippy, and doesn't cut corners when it comes to authenticity. He jokes that when people hear his heavy brogue that it's an affected accent as part of the show a la James Doohan, but King is the real deal. His day typically starts around 7 AM when he peels, cuts, and blanches fresh potatoes for his chips (French fries). His fish and chip dinners feature generous slabs of North Atlantic cod, haddock, and halibut (with red snapper and mahi-mahi available for those who roll that way); the dinners are served with house-made Cole slaw and tartar sauce, but there are also options to get sides of curry sauce or mushy peas. Naturally, there's malt vinegar and salt for finishing the dish properly – you can even wash the fine spread down with an Irn-Bru.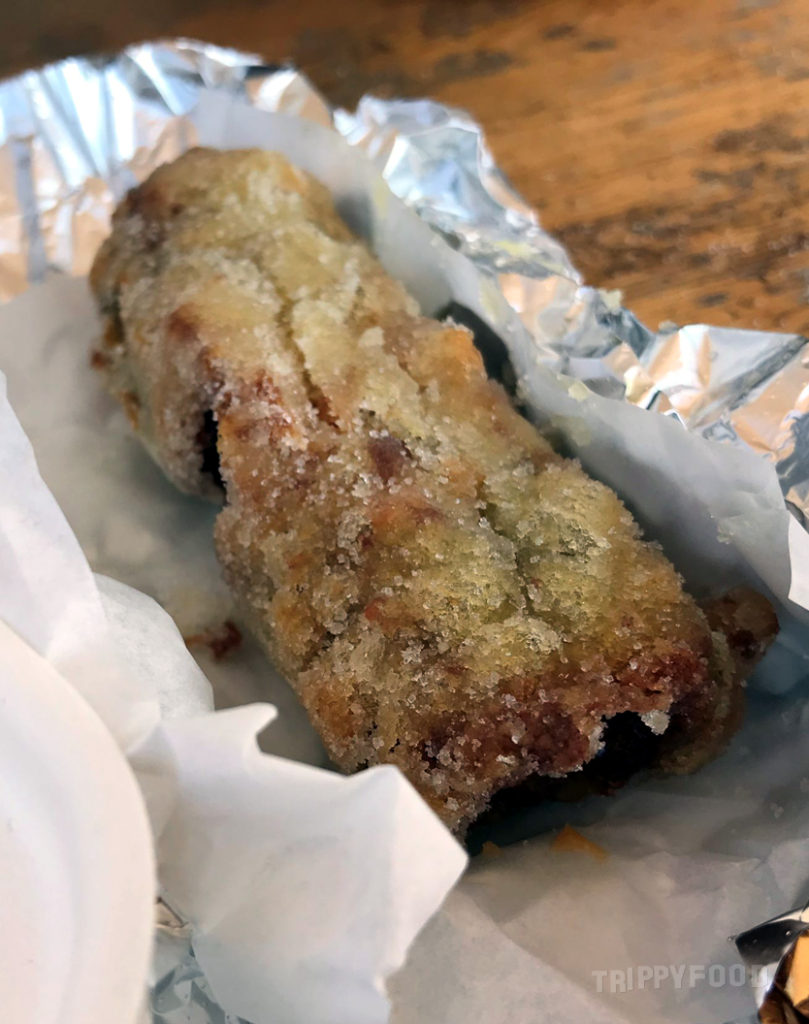 The specialty of the house and curiosity that brings most people to the cart is the haggis supper. Unlike the fried haggis balls with potatoes mixed in that most of the chip vans made, King has haggis sausage made specifically for The Frying Scotsman chock full of sheep hearts, livers, oatmeal, and spices. After a flour dredge and a dip into a batter bath, the haggis sausages go into the fryer where they develop a crispy shell. As long as you're making a meal of it, for dessert you can dig into a twice-battered and floured fried imported Mars bar that is gently rolled in granulated sugar.
The Frying Scotsman food cart would be a unique food destination anywhere in the US; it's a little bit of home to Scottish ex-pats and an authentic dining experience that sets itself apart from the plethora of Mexican and Mediterranean carts that dot the Metropolitan Portland landscape in profusion. There's also the extra added bonus of being able to tell people you ate in a city called Beaverton.
The Frying Scotsman at BG's Food Cartel
4250 SW Rose Biggi Avenue
Beaverton OR 97005
GPS Coordinates: 45°29'21.1″N 122°48'29.2″W
Twitter: @Frying_Scotsmn
VIDEO: Watch as we pay a visit to The Frying Scotsman for the Haggis Dinner: https://www.youtube.com/watch?v=AOWyQamnCsE